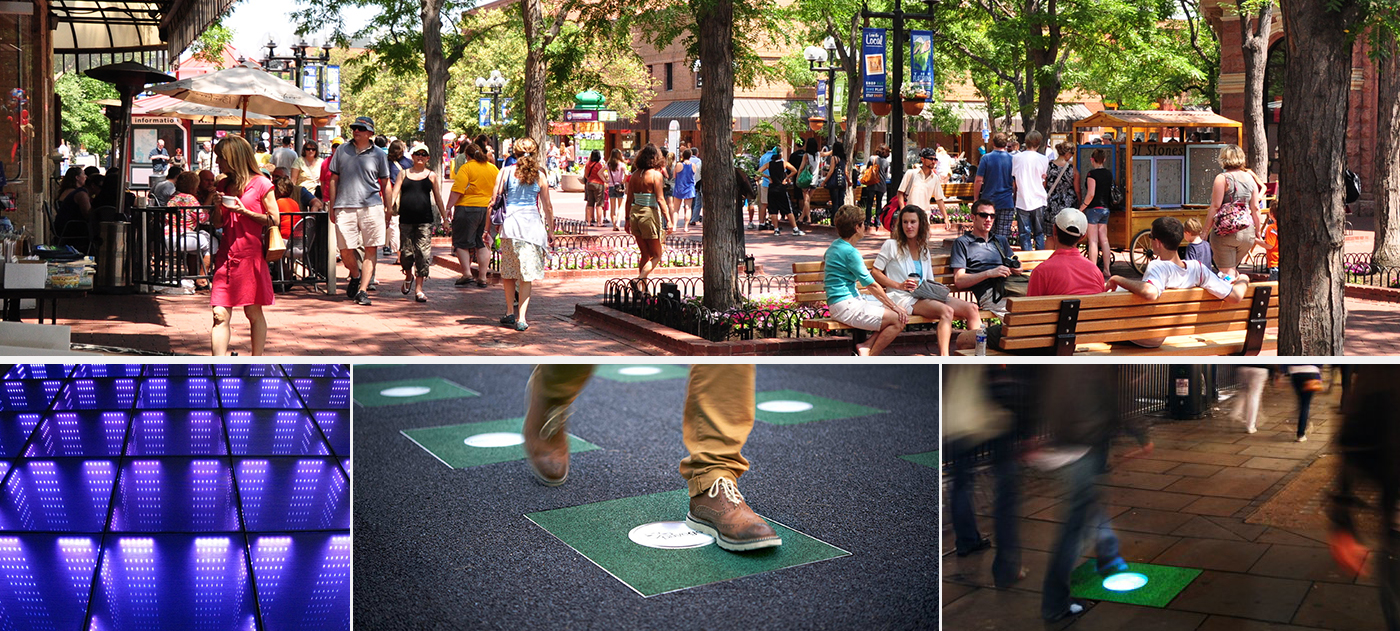 People Powered Public Spaces
Smart tiles harness kinetic energy along a busy pedestrian mall.
People Power Pearl aims to take the already successful experience of strolling down the Pearl Street Mall, one of the most popular pedestrian malls in the country, and use emerging technology to create an integrated smart experience that would enhance users interaction with the mall. Our solution, People Power Pearl, proposed placing smart tiles along common pathways throughout the pedestrian mall to collect kinetic energy from people walking on the mall. The energy captured through smart tiles help power low voltage features, such as lighting, wifi, and kiosks, which help improve safety and reduce energy costs.
ROLES & RESPONSIBILITIES
Concept & Experience Design
CHALLENGE
We were asked to imagine what the future of the Pearl Street Mall could look like by integrating emerging "web of things" concepts that would help people engage with the mall, while also aligning with the city's core values and goals.
DESIGN PROCESS
Understanding the History of the Pearl Street Mall
We began our process by looking deeper into the history of the Pearl Street Mall. In 1976 the blocks of Pearl Street between 11th and 15th Street were closed to vehicles, creating a 4 block pedestrian mall to ensure that the local, historical character of downtown Boulder stay alive. The Mall has always been a place for people to gather and connect, and it is often referred to as the "crown jewel" or the "cultural heart and soul" of Boulder.
Next, we took a stroll down the Pearl Street Mall for ourselves. We wanted to see who was using the mall, how they were interacting with their surroundings, and how they were behaving. The Mall was bustling with people of all different types—there were mothers with children, business men in suits, college students out to lunch, and street performers gathering crowds. And, since the Mall is closed to vehicles, all of these people were on foot. Through our observations, it was clear that the Pearl Street Mall was place in constant motion.
Understanding the Context of Pearl Street
Through our research of the city of Boulder, we found that the Boulder Valley Comprehensive Plan was first adopted in 1977 to guide land use decisions which aim to protect the natural environment and foster a livable, sustainable community. As part of Boulder's 2010 update to the comprehensive plan, "ramped up climate action" was identified as a major goal. The city identified the desire to be "a leader and partner in the community by reducing local energy demand, improving energy efficiency, and moving toward more renewable energy."
Brainstorming Solutions
We knew we wanted our solution to create an engaging experience, that built upon users existing behaviors while on the Mall, while also aligning with the city's core values. Through our research, we discovered a number of new technologies which are transforming the way cities function and creating a promising future for sustainable cities. One new piece of technology that caught our eye were kinetic floor tiles, being developed by Pavegen. These tiles aim to capture the energy from footsteps passing by. We thought about all the footsteps—and therefore all the wasted energy on Pearl Street that could be captured through these tiles.
THE SOLUTION
With every footstep, Pavegen tiles gather kinetic energy to supply power for wayfinding and safety features along the busy pedestrian mall.
Our solution proposes installing 10-15 floor kinetic tiles along the most traveled section of the Pedestrian Mall and a small, interactive installation to educate youth about renewable energy. We envision tiles to be sporadically placed throughout the mall, so that they do not distract from the historic feeling of the brick mall.
The tiles gather energy which can be used to power WiFi and Bluetooth devices, as well as low-voltage features, such as lighting, and digital information kiosks. Together, these features help to increases safety and way finding for users of the Mall.
This project is in progress—check back for updates!